I recently took a peek into the family tree of Tim Kaine in a piece that combined a big-picture perspective with a mini-saga of the Kaine branch. During the course of my research, though, I came across other random tidbits of interest, so thought I'd share them clustered by branch of the family tree.
Mannion Branch
One of Kaine's grandmothers had a mishap as a youngster where she accidentally cut off part of her thumb:
This child's father was involved in local Democratic politics, and wanted to be sure that everyone knew that he had "no blood relations who ever voted another ticket," perhaps insinuating that he had some uncooperative in-laws.
 Galway-born John Mannion, a great-great-grandfather of Tim Kaine's, was one of the first Catholics in his part of Kansas. According to a retrospective, "In August, 1870, the first Catholic services in Butler county, were held in a little log cabin on the farm of John Mannion, who had settled here three years previous." He lived long enough to celebrate his 50th anniversary in this same place.
Hannon Branch
One of his great-grandaunts won a piano for being the "most popular young lady" in her community.
Despite claims that he was born in Donegal, Kaine's immigrant Hannon ancestor was born in Carriganaltig (in the Wallstown/Castletownroche area) of County Cork, which seems appropriate since Tim Kaine enjoys spending time in Cork and has been dubbed an "honorary Cork man." Turns out he's an actual Cork man.
This same ancestor arrived in New York on November 28, 1851 at the age of 11 on a ship called Florida. Given that there's no one else of his surname on the ship, it may be that the fellow two lines above him was his uncle since his mother's maiden name was also Jones. Note that this ship's manifest includes a column for recording those who "died on the voyage." Fortunatately, only two of the 390 passengers on board died during this particular journey.
Fleming Branch
Kaine's immigrant Fleming ancestor was born in Mullinakill, Tullogher in County Kilkenny, and his family can be found there in the 1833 tithe applotment.
This great-great-grandfather would take the most meandering journey of all of his forebears. Starting in Ireland, he went to Canada (Bruce County, Ontario), then Illinois, then back to Canada, then to Kansas, and finally to Oklahoma. Given the timing involved, the Fleming family and Downey branch they married into may well have been among the so-called "coffin ship" arrivals to Canada during the Irish Famine.
Farrell Branch
RootsIreland.ie has future immigrants and great-great-grandparents, Patrick Farrell and Mary Malnimow, marrying in Killashee, County Longford on September 4, 1834, but for whatever reason, the actual record isn't found in the parish collection housed by the National Library of Ireland. Still, it seems to be accurate as it meshes with this detail-packed, multi-generational, local history profile of Patrick. It's also the place that Tim Kaine visited with his family in 2006 based on his parents' visit to the same place years earlier. Locals are excited about their famous son, with people already joking about a Tim Kaine Plaza like the Barack Obama Plaza in Moneygall.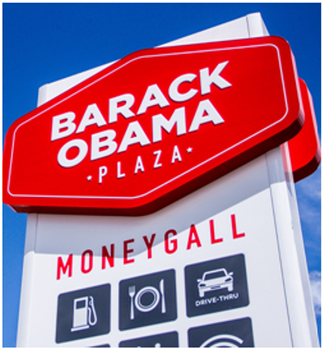 Burns Branch (and a Research Challenge)
As with his running mate, Hillary Clinton, there are a number of errors to be found in the assorted online trees for Tim Kaine. The most common are incorrect places of origin in Ireland and the most pronounced is in the Burns line where I failed to find a single tree that has the right parents for Tim Kaine's great-grandfather, Michael F. Burns. While it's less severe than the case of Clinton (everyone had one of her grandmothers wrong), it still translates into one-eighth of his family tree being off.
So here's a little challenge for my fellow genealogical sleuths. It takes some digging, but there's plenty of evidence out there about the true parents. Can anyone uncover their names? You can get started by finding him in the 1900 census as Mike Burns in Marceline, Linn County, Missouri. And no, his parents were not Patrick and Sarah. Happy hunting!
Save
Save
Save
Save
Save
Save
Save
Save
Save
Save
Save