I'm happy to announce that the first of two grant recipients in the first quarter of 2020 is Nicka Sewell-Smith of BlackProGen LIVE.
Here's who they are and what they do in their own words: "BlackProGen is a group of professional genealogists who research and document African American families. We share research strategies, thoughts, ideas, experiences, and whatever comes to mind while working for clients and in our own research endeavors through conference and webinar presentations, blogs, podcasts, video, interviews, and more. Our twice monthly broadcasts, called BlackProGen LIVE feature a panel and friends discussing a myriad of topics in the world of genealogy. Shows generally take place on Tuesdays or Wednesdays with exceptions. In 2020, we added a hosted Twitter meetup, #CREWChat, and History: Unscripted, a new series focused on current events and pop culture from a family history point of view."
Grant funds will be used to help cover the costs of the platform used to host these live broadcasts. Check out the 2020 schedule below: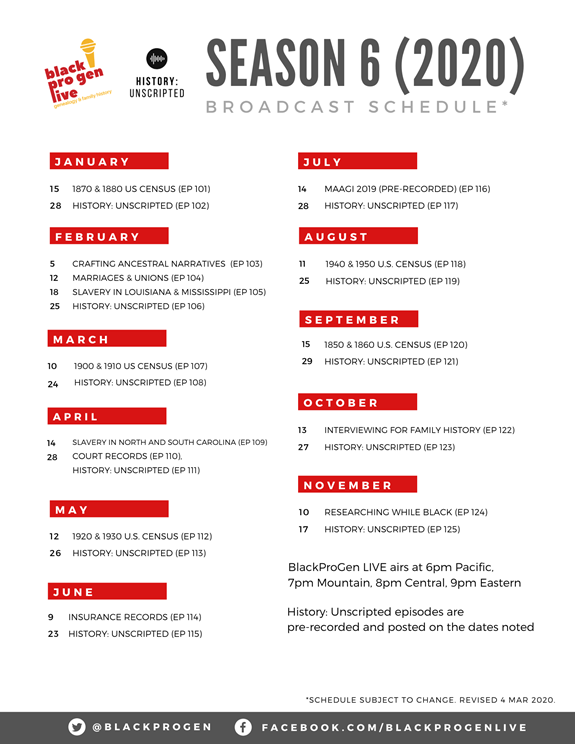 Watch for an announcement about the second grant recipient shortly. Meanwhile, though, you can apply for a Seton Shields grant here. Don't miss checking out the cool projects I've had the opportunity to contribute to over the years, plus an article that will give you a behind-the-scenes peek into my grants program (and might help you increase your odds of being selected when you apply). Time is running out, so don't delay!