A Genealogical Adventurer And Storyteller Who Loves Solving Mysteries
Megan Smolenyak Smolenyak (yes, that's her real name) is a genealogical adventurer and storyteller who loves solving mysteries, making unexpected discoveries and pushing the boundaries of conventional genealogy.
A popular writer, speaker and TV guest, Megan has appeared on Good Morning America, the Today Show, the Early Show, CNN, NPR and BBC. In addition to consulting on shows ranging from Who Do You Think You Are? to Top Chef, she is the author of six books, a Medium and Huffington Post contributor, a cold case researcher for the Army, BIA, NCIS and the FBI, and former Chief Family Historian and spokesperson for Ancestry.com.
Her most recent books are Hey, America, Your Roots Are Showing and Who Do You Think You Are?: The Essential Guide to Tracing Your Family History, companion guide to the TV series.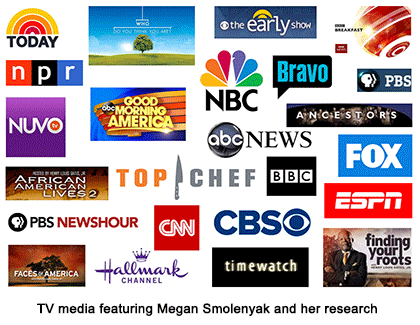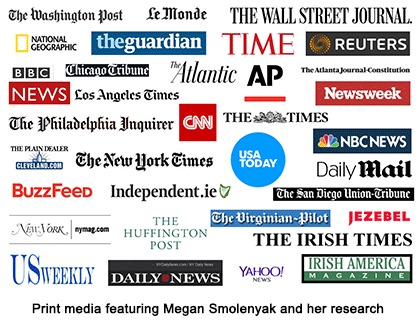 Megan's "greatest hits" include the following:
Discovering Michelle Obama's roots (as featured on the front page of The New York Times) and tracing Barack Obama's roots to Moneygall, Co. Offaly, Ireland, resulting in his pint-in-a-pub moment
Correcting history by revealing the true Annie Moore, first immigrant through Ellis Island (as featured on the front page of The New York Times)
Providing 20 years of forensic consulting services to the U.S. Army to locate thousands of family members of more than 1,500 soldiers still unaccounted for from WWI, WWII, Korea and Southeast Asia
Celebrity roots as featured on assorted TV shows (e.g., Martha Stewart, Stephen Colbert, Brooke Shields, Cory Booker, Tom Colicchio, Emmitt Smith, Richard Blais, Lisa Kudrow, etc.) and in her writings (e.g. Lin-Manuel Miranda, Pharrell Williams, Betty White, Katy Perry, Joe Biden, Beyoncé, Jimmy Fallon, Josh Groban, Pink, Ken Burns, Prince, Jon Stewart, Bruno Mars, etc.)
Using her sleuthing skills to help coroners locate the next of kin for unclaimed persons and establishing a group of volunteers to tackle this quiet epidemic
Supporting 222 genealogical initiatives from 2000 to 2020 for a total of more than $100,000 through her Honoring Our Ancestors Grants Program
Many more articles and interviews about her genealogical adventures can be found here.
Megan was one of the first to champion the use of DNA testing as a means to explore one's heritage, and co-authored Trace Your Roots with DNA, the best-selling, how-to book on genetic genealogy. Her other books include Honoring Our Ancestors, In Search of Our Ancestors, and They Came to America.
In addition to the shows mentioned earlier, she has consulted for and appeared on BBC Breakfast, Finding Your Roots, Faces of America, African American Lives, Ancestors, TimeWatch, Great American Railroad Journeys, They Came to America, ESPN, and has spoken at hundreds of events from New York to New Zealand.
Megan is honored to have received the National Genealogical Society's Award of Merit, a gold Folio Eddie, five writing awards from the International Society of Family History Writers and Editors, and four Tellys for video production.
Formerly an international marketing consultant (CMC), she has traveled to more than 80 countries and holds a BSFS in Foreign Service from Georgetown University, MBA in International Business from George Washington University and MAS in Information Technology from Johns Hopkins University. Megan welcomes inquiries about her speaking and consulting services.