I was delighted recently to trip across Fifty Things That Aren't My Fault: Essays from the Grown-Up Years by Cathy Guisewite. Guisewite is the cartoonist who created Cathy which ran from 1976 to 2010, and if you're a woman of a certain age, Cathy was a revelation and a comfort. It made you feel seen and reminded you that, no, you weren't crazy.
This book is mostly light and breezy, but also touching – especially when she writes of her parents. It was her mother who nudged her into doing her now much-beloved comic strip, so I did a double take when I read that her mom "was born in a tiny log house with a woodburning stove, no plumbing, and no refrigerator in a remote village in Slovakia."
Say what, now – Slovakia? Could she, is it possible that she's…Rusyn?
A mere three sentences later, my question was answered: "They speak a language called Rusyn in that region which, even though Mom has no trace of an accent, can still roll off her tongue like a beautiful, exotic song."
Seriously? Cathy Guisewite (and of course, Cathy by proxy) is Rusyn?! And guess what? Cathy's Rusyn immigrant mother, Anne, is 97 years old!
It was a no-brainer. I had to go sleuthing to learn more. In the book, Guisewite mentions that her mother came to America at the age of three (playing with a ball of aluminum foil while crossing the Atlantic), and that she and her mother were going to rejoin her father who was working in a steel mill in Cleveland. Well, it didn't take long to find confirmation. Here's their arrival record.

The surprise was learning that Anna Jr. was already an American citizen. Why? Because her father had been born in Pittsburgh. His immigrant parents took him back to Slovakia where he spent the balance of his childhood and married before returning to the U.S., followed by his wife and child.
There's quite a paper trail, but in the interest of privacy (since we're dealing with living people), I'll just share this tidbit which references the baptismal record of Anna's father at St. John the Baptist Greek Catholic Church just outside of Pittsburgh – the same church where Andy Warhol and his parents are buried.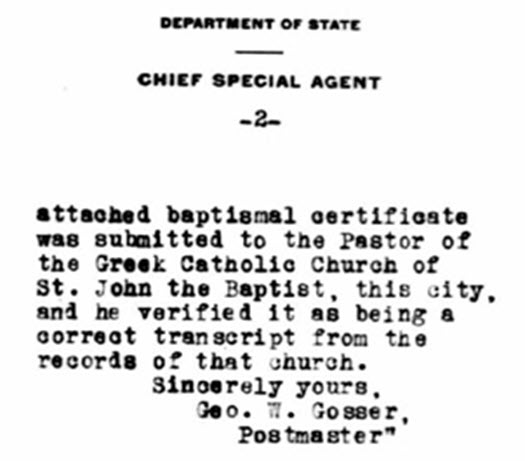 So which village gets the credit for Cathy's mother? Šambron, not far from Stará Ľubovňa (incidentally, I've linked to images of the village because someone's vandalized its Wikipedia page, so if you're a Wiki editor, it would be lovely if you could undo the nonsense).
It's possible to learn this from the family's immigration records, but I took it a step further by finding the baptismal record of Anna's mother/Cathy's grandmother.

And here's a peek at the church where Anna Mindek was baptized, the Protection of the Blessed Virgin Mary Greek Catholic Church.
So yes, we of Carpatho-Rusyn stock get to claim Cathy Guisewite and her mother, Anne – as well as Cathy – as fellow Rusyns!
Top Image Credit: Cathy Guisewite