It's always fun to get a peek at the outcome of one of my grants, so I was really happy to hear from Cecilia Chien, one of the Seton Shields Genealogy Grant recipients of 2016. Cecilia has given me permission to share her photos and the story of her research trip, so I'll let her take it from here, in her own words:
I know you don't require a final report, but I thought it would be fun to briefly share the results of the genealogy fieldwork I did in China this Spring 2017.
I planned my 2-week visit to coincide with the annual Grave-sweeping Festival, which fell on April 4 this year, to pay respects to one's ancestors. This traditional event was condemned by the People's Republic from 1949 on as "feudal," but the government restored it in 2008, creating a 3-day public holiday from the 15th day after the Spring Equinox. Hundreds of millions of Chinese travel to visit cemeteries during this time, burn offerings of fake money and paper luxury items, and light firecrackers to frighten off evil spirits (though the government is trying to ban burning, which adds to pollution).
I visited half a dozen sites in eastern China related to the Chien family's history. First, in Shanghai are the Shanghai Museum, Shanghai Library, and a research society dedicated to King Chien, the 10th century ancestor from which the clan reckons its genealogy. In Tongling City, at Immortal Mountain Cemetery, my own father's ashes are buried. In Pengshan Village, where my father was born, is the family plot where paternal other relatives rest; headstones list family trees. In scenic Hangzhou, are the Chien Ancestral Hall compound as well as the tomb of King Chien's #7 son and successor. Finally, in Linan City, over 1,000 descendants of King Chien from across the diaspora (including Europe, Southeast Asia, and the US) converged at his tomb for a ceremony marking the 1,100th anniversary of his investiture. Genealogy is definitely hot in China today.
I learned so much from this trip! I took 2,800 photos (2 shown here of the Linan ceremony), have self-published three volumes on it, and will be presenting my work at various forums. Thanks again for all your generosity in making not just my project but so many historical projects possible!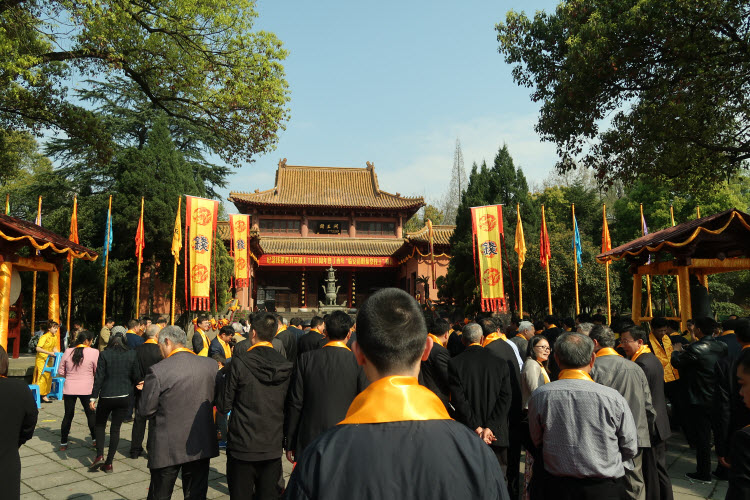 Save
Save
Save